Incomparable views, exceptional food, and impeccable service at our Half Moon Bay restaurant in Miramar Beach provide a dining experience that will exceed the expectations of everyone in your party. Except for those who have already enjoyed our seafood and steak restaurant dining experience!
The dining menu consists of the freshest seafood, finest steaks and our world-famous seafood chowder. We also have a superb, hand picked list of wines, domestic and imported.
The Miramar Beach Restaurant was originally designed and built as a Prohibition speakeasy. Inside were revolving kitchen cabinets and other secret compartments where illegal liquor was concealed from the prying eyes of the "G-Men." Our new expanded bar with a view from every seat now displays our extensive collection of "legal spirits."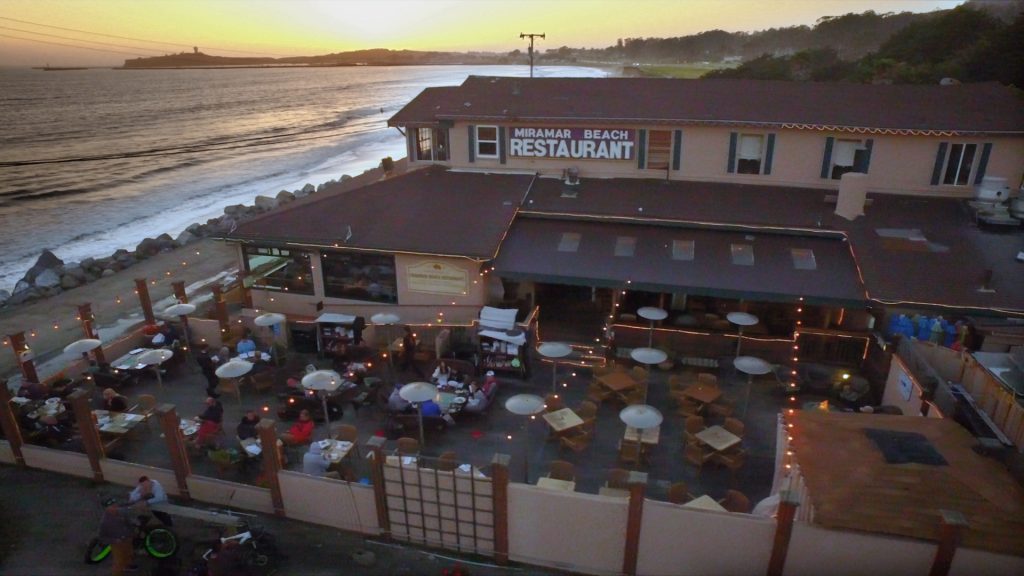 From 1918 to 1955 a redheaded madam named Maymie Cowley, aka "Boss", ruled the Miramar, During her reign, the roadhouse was raided numerous times for illegal liquor, gambling and prostitution during Prohibition. During this time the Miramar was a notorious drop off point for illegal liquor. Smugglers bought their booze in Canada and shipped it down the coast to Half Moon Bay. Under the cover of darkness, small vessels, known as "rum runners", met the large ships off the coast and transferred the illegal cargo to shore. Rum Runners, because of their speed, were ideal vessels to make the transfer from ship to shore. Due to their agility and speed they were often able to out run Coast Guard patrol boats. Half Moon Bay was the ideal location for the transfer of this illegal cargo, as it was a small isolated yet still close enough to San Francisco for transport by car.
The Miramar Beach Restaurant (known as the Ocean Beach Hotel during this time) was originally designed and built as a Prohibition roadhouse. This meant that in order to keep the contraband hidden during raids, secret compartments and revolving kitchen doors were built into the building. The upstairs of the Miramar served as the Bordello. Ten small rooms each equipped with a sink, a light, hat rack and bell system to the kitchen below allowed the restaurant to serve their customers upstairs.
Since the Golden Era of the Half Moon Bay Coastside, nearly all the speakeasies of that time have disappeared. We are one of only a handful of buildings from that time period. Upon your visit to our restaurant, please feel free to look around at our collection of old photos of the building and the Coastside.